Top 7 Farmers Markets in Charleston
March 06, 2019
Top 7 Farmers Markets in Charleston Article
Whether you are a local of Charleston, or just visiting for the first time, Charleston's Farmers Markets are not to be missed.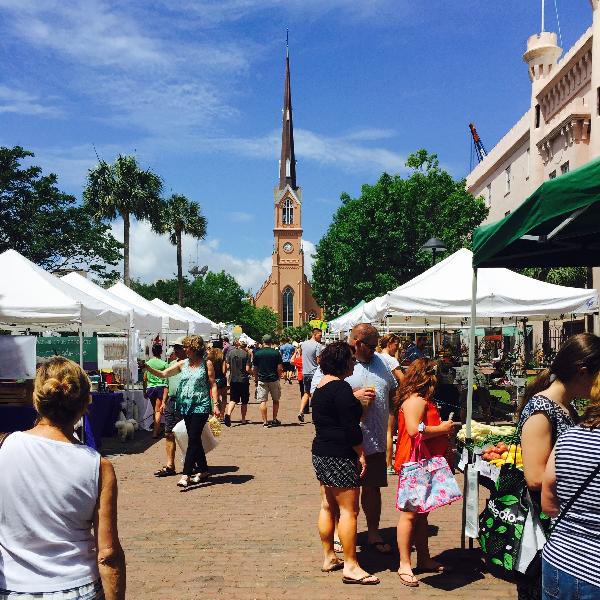 This April the fun kicks-off Downtown and the surrounding local areas. Get out and support our local farmers, artisans & crafters, and the lively musicians every Tuesday, Wednesday, Saturday, and Sunday. Join us and explore the charming culture Charleston has to offer, whether grabbing a quick bite to eat, getting your locally sourced groceries for the week, or shopping for handmade crafts.
What: Charleston Farmers Market | Where: Marion Square | When: Saturdays, April 24 – October 2
In the heart of Downtown Charleston, Marion Square is the place to be Saturday mornings. Join over 100 local vendors including; Farmers & Growers, Sweet & Savory Food Concessions, Artisans & Crafters, Live Music, Fun Activities, Community Groups & So Much More! Join the largest outdoor dining patio Charleston has to offer while listening to live music and enjoying the local atmosphere.
What: 2nd Sundays on King Street | Where: King Street Downtown | When: Every 2nd Sunday
Come enjoy King Street like you don't experience it every other day. On the 2nd Sunday of the month throughout the year, King Street is closed off for half a mile to vehicles and turns into a pedestrian only walk street. Restaurants and stores bring their business outside to produce a unique and one-of-a-kind experience. Guests up to 20,000 have joined the business development initiative that supports downtown Charleston's balance and livability.
What: Post & Courier Farmers Market | Where: 134 Columbus St | When: Sundays
If you are looking for farm fresh foods, homemade arts and crafts, and local food trucks, stop by the Post & Courier on upper King Street before going to 2nd Sunday on King Street. Get some spices from Charleston Spice or discover some new furniture from Charleston Reclaimed. Buy a tee and plant a tree with Artisan Tees.
What: West Ashley Farmers Market | Where: Ackerman Park | When: Wednesdays, April 24 – October 2
The West Ashley Farmers Market expands the geographical reach of local farmers out to West Ashley. Grab some of the freshest seasonal foods from nearby farms. Live entertainment and vendors galore will give you an afternoon filled with entertainment and fun for the whole family.
What: Mount Pleasant Farmers Market | Where: Moultrie Middle School | When: Tuesdays, April-September
Head across the beautiful Ravenel Bridge for the Mount Pleasant Farmers Market Tuesday afternoons. Wander through the market flourished with colors from flowers, fresh fruits and vegetables, and locally produced snacks and goods. After the market head over to a local watering hole on Shem Creek to catch the warm sunset and cold drink.
What: Sunday Brunch Farmers Market | Where: The Pour House | When: Sundays
Join us for supporting a local farmers market dedicated to small and rising businesses and individuals from our community. This 100% local market is the place to find the products with the home-made touch. The mission is sustainability at the Sunday Brunch Farmers Market.
What: Folly Beach Farmers Market | Where: Folly River Park | When: Wednesdays
Workshops are a plenty down at the beach. Join in for an evening of fun live music, unique pop-up shops, and delectable home-made food and drinks.